Showing 1-4 of 4 articles.
Published on Thursday, June 11, 2020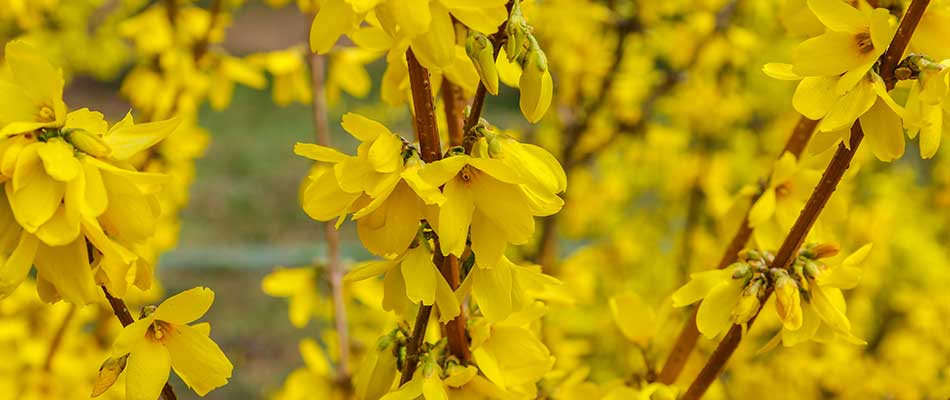 As spring moves into summer, the blooms on your spring flowering plants and shrubs will begin to die off and fall to the ground. When this happens, it means it is time to get them trimmed. Waiting too long can be disastrous for their health. Learn why you should trim spring blooming plants by the end of June in areas such as Macomb, Chesterfield, Shelby, and neighboring communities in Michigan. Six Common Spring Flowering Plants in Our Area When buds begin to ...
---
Published on Wednesday, January 30, 2019
What's up, everyone? It's Chester here with Big Leagues Lawn Care. Just wanted to show you this plant really quick. This is the same plant from the spring. It's called a forsythia, and these things are gorgeous and bright yellow when they bloom. When they're dormant, the other 50 weeks out of the year, they just look kind of scrubby, like a big old unruly bush, but these are gorgeous. When these things do bloom, that means it's spring. They...
---
Published on Wednesday, January 30, 2019
Since I'm on the Shrub Trimming Tangent, the STT. Shrub, Trimming, Tangent, I'm gonna tell you one more thing about trim, trim and shrubs. Or rather, I'll give you a few tips, It might be three plus or minus one tip that I will be providing in today's video. When you trim the shrubs, if it's a hedgerow, it's long and flat, boxed edges like a hedge, tie a string, that provides a guide for you to keep it level because as you trim shrubs, your arms get...
---
Published on Wednesday, January 30, 2019
Hello. Chester Buczynski here Big Lakes Lawncare. I have a quick quick tip excuse me, a quick tip for any of you that may be trimming your own hedges this year. There's one tip I have that I see happen all the time. People make this mistake and it makes the hedges look like crap. So, the idea when you're trimming your hedges is to have a consistent level that's flat straight across. Now, what happens is you get to the beginning of the shrubs and start trimming...
---