Commercial snow removal and deicing in Macomb and nearby areas of Michigan keep your property safe for customers and employees.
Our team sends plows whenever there is a chance of snow.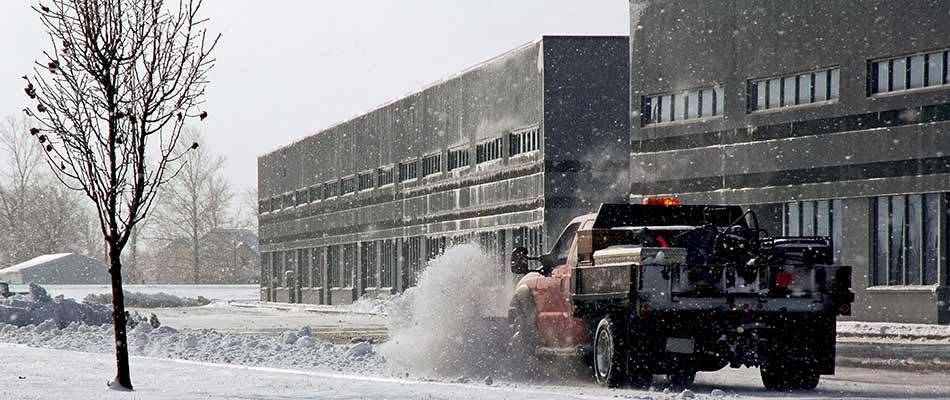 Businesses in Michigan can't afford to let snow and ice shut you down. Letting snow accumulate on your commercial property can quickly become a liability—property owners may be liable for any injuries sustained by customers and employees due to slips and falls on sidewalks and parking lots.
At Big Lakes Lawncare, we offer commercial snow removal and deicing services that will keep your commercial property safe and accessible. We serve Macomb, Chesterfield, Shelby, and nearby townships and cities in Michigan.
---
A contract for every business.
No two businesses are alike, though all have the need to stay operational and safe. We design commercial snow removal contracts to match your needs. Contracts can vary depending on your personal preferences, size of the property, and property layout. We can send a representative to assess the property and come up with a service solution that works for you.
Our comprehensive services include:
Plowing driveways and parking lots
Blowing entryways and walkways
Salting and deicing
---
Unlike other companies, we don't wait until there is a certain amount of snowfall.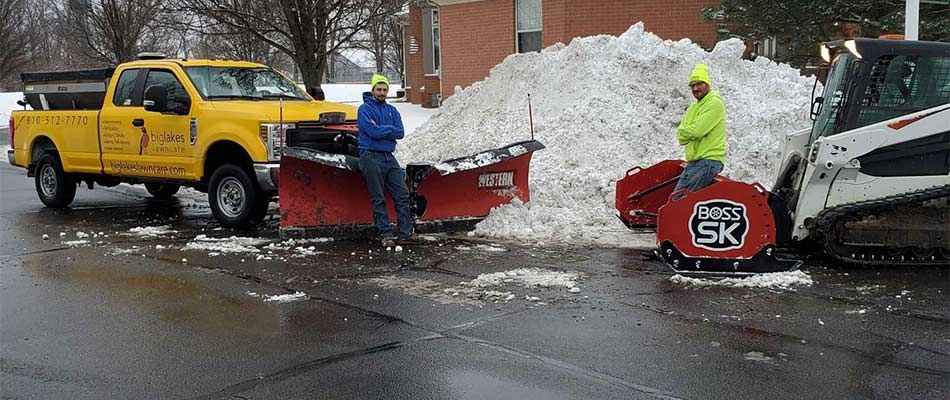 Whether there's a chance of snow or it is actively snowing, we will send out plows to plow your commercial property. Other companies wait until a certain amount of snow accumulates, but we're ready for anything and dispatch even when there's a chance of snow.
If our crews arrive before the snow does, we take pre-emptive measures to keep your commercial property accessible. We salt the property to prevent ice from developing when the snow eventually comes.
---
Commercial properties require commercial-grade equipment.
We can handle any size of commercial property and have the equipment to match. We have equipment ranging from heavy-duty plows that can manage large parking lots to blowers that keep ramps and walkways clear.
---
Deicing treatments prevent ice from forming after plowing.
One of the biggest hazards associated with snowfall is the possibility of ice accumulation. This often happens after plowing, but we understand this and take extra measures to prevent this from happening.
We employ a variety of preventative treatments to keep your property safer for staff and customers. These treatments include salting before and after plowing and liquid deicing treatments.
Calcium chloride is also applied, which lowers water's freezing point, helping snow and ice melt very quickly.
---
Businesses can't afford to let snow and ice settle on the property. Get added to our snow removal list today.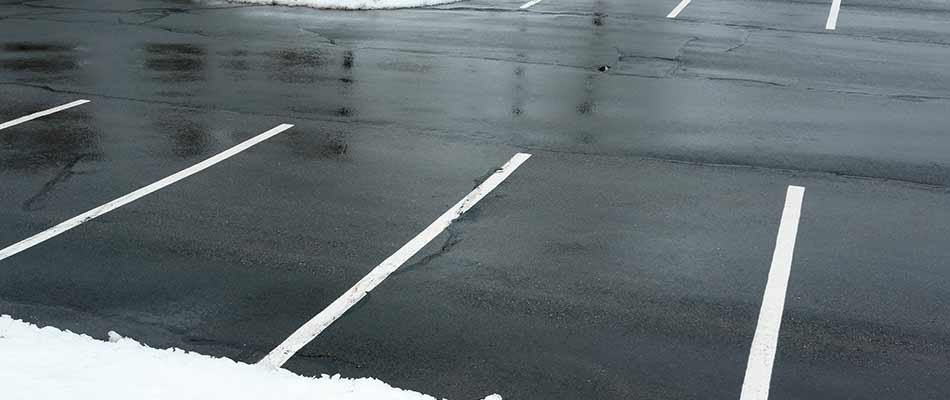 Get ahead of the winter weather and sign up for snow removal services today. Our roster of businesses can fill up quickly so don't wait until the snow starts. We offer reliable and effective snow removal for commercial properties in Macomb, Chesterfield, Shelby, and nearby areas of Michigan. Call us today at (586) 200-0855 to speak to one of our team members for an estimate.