We offer lawn care and landscaping services to homes and businesses in Harrison Township, MI.
We will ensure your lawn and landscape are in optimum condition throughout the year.
Harrison Township, MI is a charter township in Macomb County known as "BoatTown, U.S.A." because of the many large marinas located here. Because of this, many recreational activities in Harrison Township revolve around the water. If you're looking for something to do here, you can visit Lake St. Clair Metropark. This 770-acre facility features water slides, nature trails, a golf course, and several amenities where you can go picnicking, fishing, boating, swimming, and even ice skating during the winter!
At Big Lakes Lawncare. we help homeowners and business owners in Harrison Township, MI keep their lawn and landscape in optimum condition year-round with our lawn care and landscaping services. We also offer pest control services and comprehensive commercial landscaping services!
---
Our lawn care and maintenance services include lawn fertilization, weed control, lawn mowing, and more.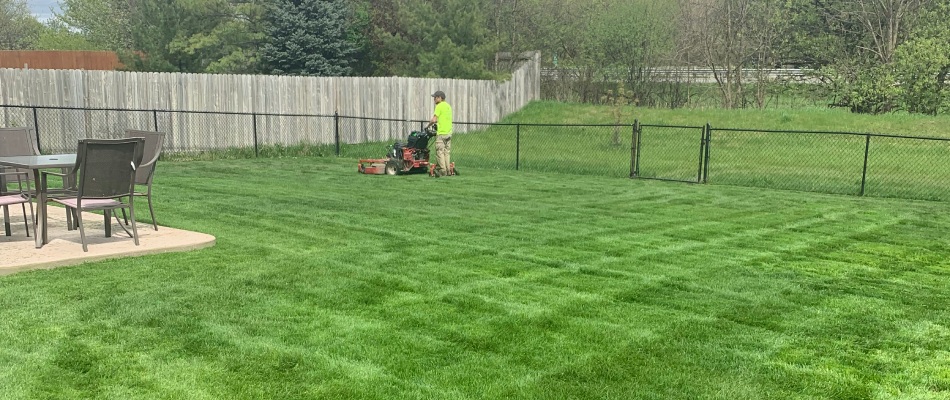 We offer top-quality lawn care services such as lawn fertilization and weed control treatments to make your grass stronger and more resilient while ensuring invasive weeds are out of the way. If your grass continues to struggle, the soil might be the problem. Our aeration service can loosen compacted soil and allow nutrients and vital resources to reach the roots of your grass. We can also perform our overseeding service to fill in the bare patches on your lawn with new grass! Our lawn disease control treatments can clear common lawn diseases such as snow mold, fusarium blight, dollar spot, and more.
Lawn maintenance is an integral part of maintaining your property's visual appeal. If you want your turf to always look neat, we offer a lawn mowing service that includes string trimming, edging, and blowing. We also offer spring and fall cleanups, which involve eliminating debris, cutting back perennials, and mowing your lawn to keep your turf manicured. Thick leaf piles can also affect your lawn's health and appearance, but that can be a non-issue with our leaf removal service! If you have trees and shrubs on your property, we can help them thrive with tree and shrub fertilization and disease control services.
---
We Create & Maintain Beautiful Landscapes With Our Landscaping Services
Our plantings and bed renovation service can make your property in Harriston Township, MI more visually appealing by renovating your landscape beds or adding new ones. Our annual flowers and seasonal colors service will give your landscape beds some pops of color! To keep your landscape beds and plants in fantastic shape, we provide mulch installation, landscape bed weed control, and shrub trimming services. If you want a lush green lawn, we can also give that to you instantly with our sod installation service!
---
Enjoy A Pest-Free Property With Our Pest Control Services
Harrison Township, MI is no stranger to troublesome pests that can quickly take over your property. Our crew can help ensure your property is pest-free with our perimeter pest control service by creating a barrier that keeps pests out of your home or business. We also offer mosquito control and flea and tick control services to protect you and your loved ones from these problematic pests.
Your lawn also needs protection from destructive lawn insects. At Big Lakes Lawncare, we offer a grub control service that can prevent and eliminate root-munching grubs. We also provide various lawn insect control services that target Japanese beetles, European chafers, sod webworms, and chinch bugs.
---
Make your business more appealing with our commercial lawn and landscaping services.
If you own a business in Harrison Township, MI, we can help make your commercial property more appealing with our commercial lawn care and commercial lawn mowing and maintenance services. We also provide commercial landscaping and commercial snow removal services.
---
Give us a call today to sign up for any of our lawn care and landscaping services.
Here at Big Lakes Lawncare, we offer comprehensive lawn care and landscaping services to commercial, residential, and HOA property owners in Harrison Township, MI. If you want to refresh the aesthetics of your property and make it stand out in your community, it's time to give our team a call today at (586) 200-0855 to schedule your next lawn care or landscaping service.