Mosquito control services for lawns and landscapes in Macomb, Chesterfield, Shelby, and neighboring towns in Michigan.
We kill mosquitoes at the source before they can invade your lawn and landscape.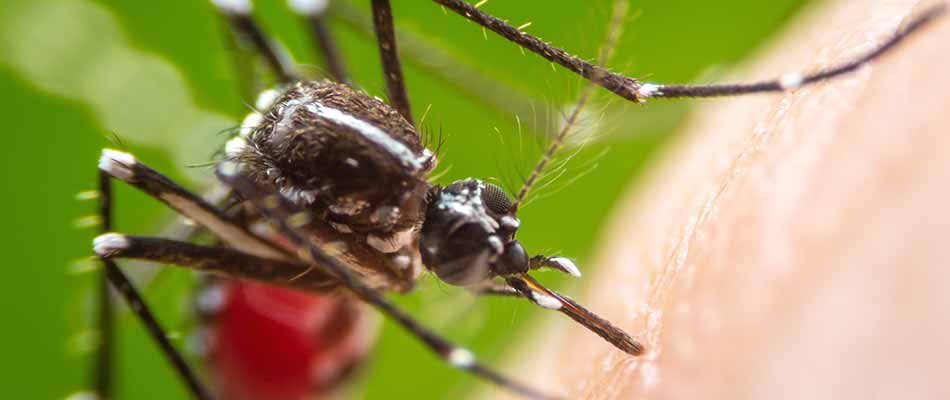 Mosquitoes are annoying pests to have flying around your backyard during outdoor activities. Their bites are itchy and can even cause allergic reactions in others, but more importantly, they could be transmitting harmful diseases.
Keeping mosquitos away from your property helps protect the health of your family and pets. Our control and prevention services kill the mosquitoes at the source before they have a chance to infest your lawn and landscape. We can apply mosquito control spray treatments for residential and commercial properties in Macomb, Chesterfield, Shelby, and nearby areas in Michigan.
---
What diseases can mosquitoes transfer to humans and animals?
Mosquito bites are not only itchy and painful, but they can also be dangerous. Mosquitoes are capable of transferring harmful and often deadly diseases that can infect humans and pets. The CDC states that mosquitoes kill more people than any other creature on earth.
These are only a few of the diseases mosquitoes are known to carry:
---
Our team surveys your property for areas where mosquitoes are most likely to live and reproduce.
Dealing with mosquito infestations at the source is the most effective way to fully remove them from lawns and landscapes. Our trained technicians will walk around your property and determine which are high-risk areas for mosquito activity.
These bloodsuckers are most active in the early morning and evening and will rest during the day. Mosquitoes like hiding in damp, cool places that shelter them from the heat, so they can mostly be found in tall grasses and plants, holes in the ground and trees, or under piles of leaves.
By properly treating the correct areas, we can disrupt the mosquitoes' life cycle and make it harder for them to live and reproduce around those spaces of your landscape.
---
We perform full-coverage application treatments to stop mosquitoes from invading your outdoor living space.
After we've surveyed your property, our technicians get to work spraying areas of your landscape where mosquitoes are most likely to colonize. While we don't target mosquito eggs specifically, we can ensure their breeding ground is destroyed with the insecticide application. We use backpack sprayers to help cover as much ground as possible in a matter of minutes!
We offer our mosquito control treatments from June until October. Enrolling in this program means that you will receive 5 treatments per year. Although the product we use lasts for about 45 days, our team will return every 30-35 days to ensure that your property is never unprotected.
We also offer an organic insecticide for those who prefer caring for their lawn and landscape with more natural methods!
---
Preventative measures you can take to minimize mosquito infestations in your backyard.
In addition to seasonal mosquito control spray treatments, there are a few things you can do for your property to effectively reduce the number of mosquitoes invading your backyard. These yard maintenance steps include:
Fixing areas of your property with standing water
Regularly mowing your lawn
Removing items that collect water
Clearing your yard of leaves and debris
---
Enjoy your outdoor living space without putting the health and safety of family and pets at risk with our mosquito control services!
Our mosquito control treatments are effective and long-lasting. They control mosquitoes on-site and continue working up to 45 days after the application!
Keep your lawn and landscape mosquito-free by calling Big Lakes Lawncare at (586) 200-0855 today! Our team services residential and commercial properties throughout Michigan, including in Macomb, Shelby, Troy, and surrounding areas.