Comprehensive Tree & Shrub Disease Control in Macomb, MI & Surrounding Communities Like Chesterfield & Shelby
We can treat a variety of diseases including tree rust, leaf spot, and more!
To keep your shrubs and trees healthy, our tree and shrub disease control program is year-round, fending off diseases and bolstering the health of your plants with fertilizer treatments. It includes multiple visits each year so these plants will get a professional eye on them several times through the course of the year to catch signs of disease early! We commonly handle diseases such as tree rust, leaf spot, anthracnose, needle cast, and more.
With employees that are treated like family and years of expertise behind us, our quality of work is unparalleled. We service commercial, residential, and HOA properties in Macomb, Chesterfield, Shelby, and surrounding cities in Michigan. You can reach us at (586) 200-0855 today to get a quote on your tree and shrub disease control service!
---
Our tree and shrub disease control program runs year-round to squash disease and bolster your plant's health.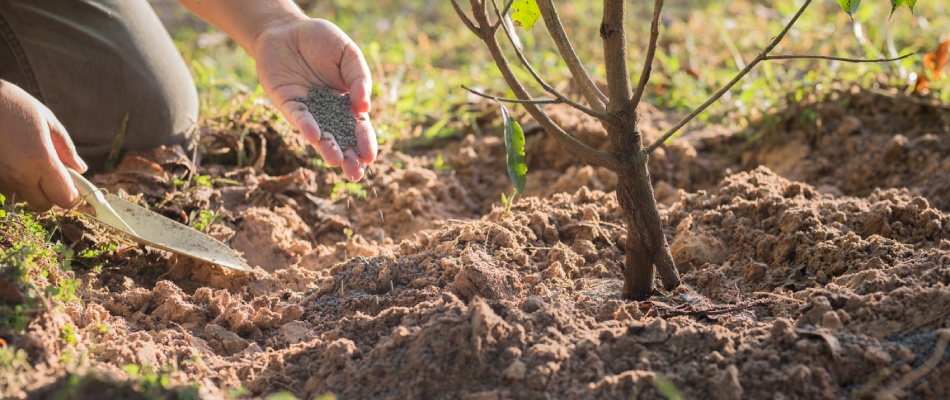 Rather than just a single treatment that may leave your plants not much better off than before, our tree and shrub program is comprehensive and year-round, containing two pillars your plants need to thrive: disease control and fertilization. With our disease control treatments, we'll squash disease before it has a chance to devastate your landscape. Then, to help your trees and shrubs recover from any long-term damage or just as a general health boost, we bolster them with fertilization! The extra nutrients fertilizer provides, including nitrogen, phosphorus, and potassium will help encourage healthy growth and root development, making your plants stronger over time. This also helps them face any seasonal challenges that come throughout the year!
---
We'll visit multiple times a year to catch tree and shrub diseases early.
With our tree and shrub disease control program, we'll visit your property multiple times a year to survey the health of your plants. This allows us to catch signs of disease just as they're beginning to show up, so we can start treating them right away before they can cause too much damage. With a professional eye on your trees and shrubs several times a year, you can rest easy knowing that your plants are in the best possible hands.
We're a member of the Michigan Green Industry Association to stay informed on all the latest industry news!
---
Common diseases we treat include leaf spot, tree canker, needle cast, and more.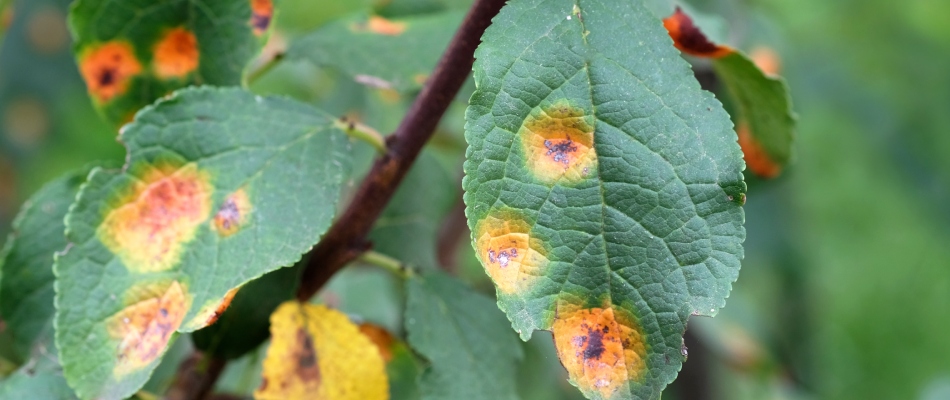 Our disease control treatment is effective against numerous diseases that commonly attack trees and shrubs. The diseases we treat include:
Tree rust disease
Leaf spot disease
Anthracnose disease
Needle cast disease
Tree canker
Oak wilt
Tip blight
Apple scab disease
Our team of professionals can face any of the above diseases on your behalf and emerge the victor, reclaiming your tree or shrub's health so it can thrive!
---
Call us today to schedule tree and shrub disease control!
At Big Lakes Lawncare, we take pride in two things: the quality of our services and our community. Because the community has shown so much love and support for the high-quality services we provide, we give back by sponsoring school events, donating clean water to Clean Water Action, and more. It's this giving spirit that demonstrates how invested we are in Macomb, MI and nearby cities like Chesterfield and Shelby. That's why we bring everything we have to every job we do – including our tree and shrub disease control program. Call us today at (586) 200-0855 to schedule your next service so your trees and shrubs can thrive!