Commercial mowing and maintenance services for Macomb, Chesterfield, and neighboring MI areas.
Our commercial services include routine mowing and maintenance, spring, and fall cleanups.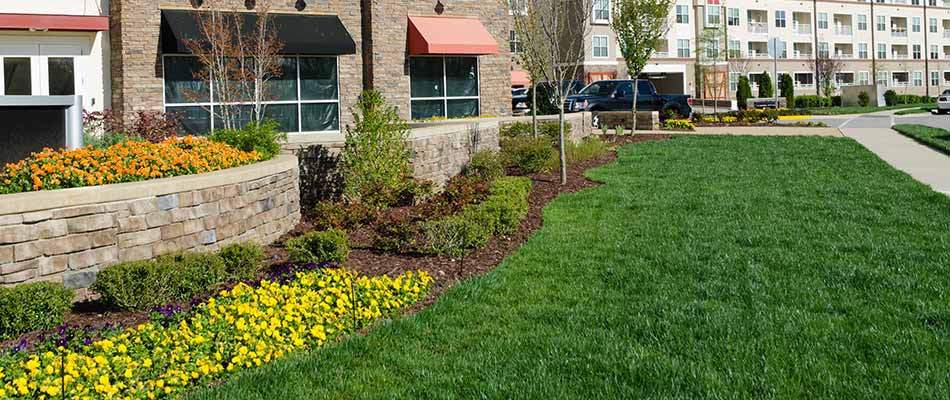 Keeping your lawn properly managed is essential for its year-round health. This is extremely important for your commercial property because an unhealthy lawn means potential bad first impressions for your visitors. We understand mowing and maintenance is the last item on your to-do list, which is why we offer our services to large commercial properties. We want to help you cross one more thing off of your list so that you can focus on what you're truly passionate about.
Our commercial mowing and maintenance services include lawn mowing with string-trimming, edging, and blowing, as well as spring and fall cleanups. Our team works on any business or HOA property located in Macomb, Chesterfield, Shelby, and surrounding MI communities.
---
Our mowing service also includes string-trimming, edging, and blowing.
Our crew will come to your commercial property once a week to mow your lawn. We take special care of your grass by using the 1/3 rule, meaning that we never cut off more than one-third of your blades. This is because cutting your blades any shorter than this might stress your grass and cause it to be more susceptible to turf problems.
In addition to the 1/3 rule, our crew also rotates our mowing patterns each time to make sure that we don't create any ruts in your lawn.
Our mowing sessions include more than just grass cutting. We leave your lawn clean and tidy with the following services:
String-Trimming: This is also known as weed whacking, line trimming, and brush cutting. We use this service to reach the grass blades that our lawnmower can't reach. This includes your grass that is next to fences, shrubs, landscape beds, and trees.
Edging: Our crew will tidy up the lines of grass that meet up with your hardscapes such as your sidewalks and your parking lots. Neglecting the overgrown grass in these areas can quickly make your lawn look messy.
Blowing: After mowing, we will blow the grass clippings off of your sidewalks, parking lot, or other hardscapes to finish with a clean, crisp, look.
---
Commercial spring cleanup services will give your grass better access to air, water, sunlight, and other nutrients.
When the weather starts to warm up in MI and the snow begins to melt, you can suddenly see all of the yard debris buildup that happened throughout the winter months. The leaves and sticks from the fall season that got stuck under the snow will block your grass from essential nutrients. To help your grass emerge from its winter dormancy, you need to remove all of the buildup to give your grass better access to air, water, sunlight, and nutrients.
Our spring cleanup services are meant for just that: helping your lawn recover from dormancy and preparing it for the warmer months ahead. If you neglect your grass during this crucial growing time, you might hinder its health for the rest of the year.
Our commercial spring cleanup services include:
Cutting back perennial plants
Removing any dead annuals from the previous season
Blowing out leaves and debris from landscape beds
Debris cleanup from the lawn
Removing any leftover leaves from the fall season
Giving your lawn a fresh mow and edging around your hardscapes
---
Commercial fall cleanup is crucial to protecting against future lawn issues.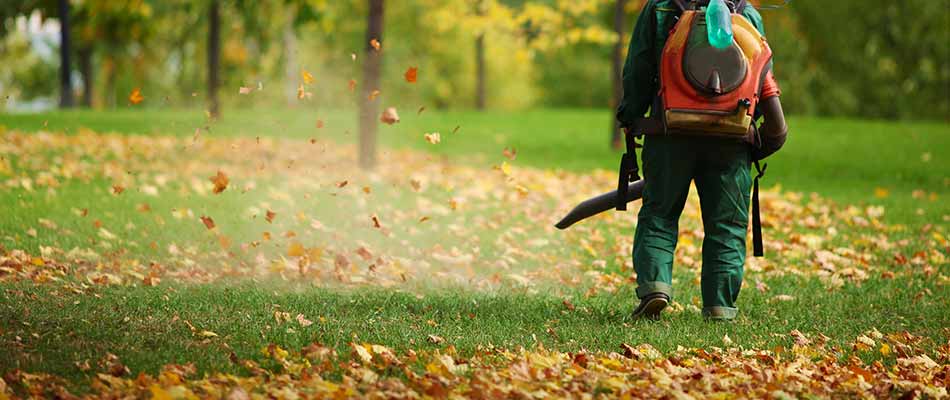 Protecting your lawn before the winter season will drastically help it recover easier in the springtime. If you don't clean up the leaves, sticks, and other debris from fall, the snow will weigh it down and crush your grass. This might lead to surprising problems in the springtime such as lawn disease and insect infestation.
Our commercial fall cleanup services protect against surprising problems in the spring. These services include:
Cutting back any perennials that need it
Pulling out dead annual plants
Blowing out leaves and debris from your landscape beds
Clearing debris and leaves from your lawn
Mowing one last time before winter and edging around your hardscapes
---
Call us to schedule your commercial mowing, spring cleanup, and fall cleanup service!
Business owners rarely have time to think about a comprehensive lawn care routine. That's why we're here to help. Hire our team for your commercial maintenance such as mowing, spring cleanup, and fall cleanup so that you can rest easy knowing that your property will look great year-round.
If your business or HOA property is located in or around Macomb, Chesterfield, Shelby, or Troy, MI, call us at (586) 200-0855 to schedule with us!