Lawn mowing services for properties in Macomb, Shelby, and other areas of Michigan.
Each mowing visit includes string-trimming, edging, and blowing services.
Routine lawn mowing throughout the growing season keeps your grass blades at the proper height for maximum health and photosynthesis, which is why we offer weekly lawn mowing for residential, commercial, and HOA properties.
Our lawn mowing is available throughout Michigan areas such as Chesterfield, Macomb, Shelby, and many other surrounding cities and townships.
---
Proper Mowing on a Consistent Schedule Promotes Healthier Grass
When your grass is not mowed properly, its health can potentially suffer. Correct height is needed for the grass to achieve photosynthesis, which is a beneficial and essential process for your lawn. Photosynthesis allows the grass to take the energy from the sun and turn that into chemical energy. Without that process, your grass won't be able to survive. We always mow your lawn to keep it at the ideal height, which means we never cut off more than one-third of the grass blades.
---
When Is the Mowing Season in Michigan?
Depending on the weather, Michigan's mowing season usually begins on April 15. Throughout the mowing season, we will routinely mow your lawn. The season typically ends around November 15.
---
All our Mowing Sessions Include String-Trimming, Edging, & Blowing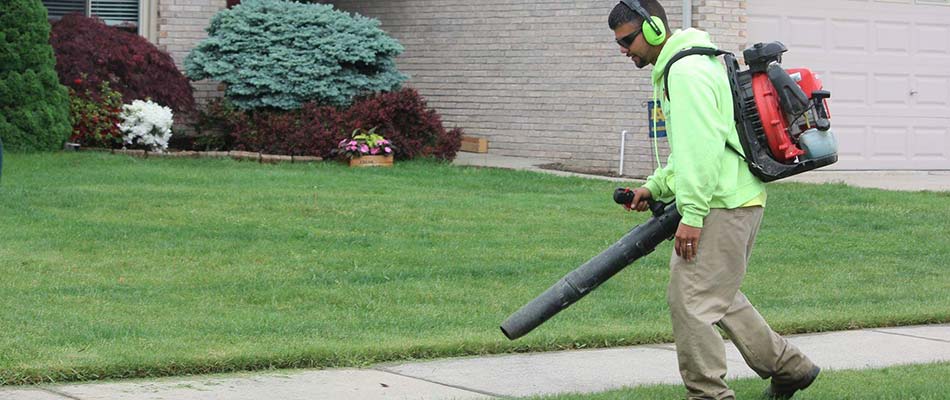 At Big Lakes Lawncare, we provide weekly mowing sessions for our clients. If you need to, we can provide a 12-month payment plan for our mowing and other services. We also offer vacation mows, but you must sign up for a minimum of four grass-cutting sessions. Each mowing visit, we will also include:
String-Trimming: This helps us reach areas that a mower cannot quite get to. By using a horizontal cut, we trim the grass that is next to fences, shrubs, trees, and other items in your lawn.
Edging: Using a vertical cut, our mowing team will remove excess grass growth around your landscape beds, large mailboxes, walkways, driveways, and more.
Blowing: We will use a blower to clear any grass clippings off of your sidewalks, driveway, patio, parking lots, or other hardscaped areas of your property.
Upon request and for an extra charge, we can also bag your grass clippings if needed. We are equipped to mow large properties with 48-inch and 60-inch state-of-the-art mowers that we always clean in between visits so your grass will be cut cleanly and never torn. Torn grass will be more susceptible to lawn disease and insect infestations.
Our knowledgeable crews will also make sure to rotate mowing patterns every time we visit so we do not create any ruts in your yard.
---
Contact our company today to be added to our lawn mowing schedule!
In Macomb, Shelby, Chesterfield, and surrounding cities in Michigan, we offer lawn mowing services to residential, commercial, and HOA properties. If you need your lawn mowed during the growing season, then contact our company today at (586) 200-0855! Our schedule can fill up quickly, so don't delay.