Mulch installation services provided in Chesterfield, Macomb, and the nearby cities in Michigan.
We install mulch by hand for a precise and correct application that benefits your landscaping.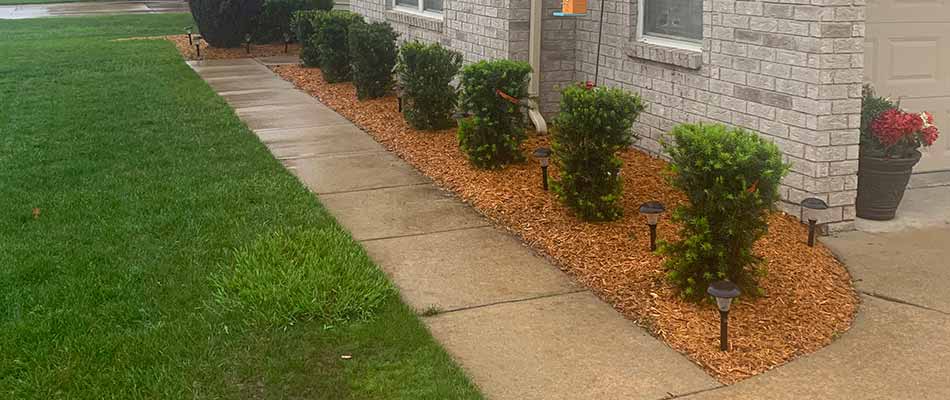 Installing landscape plants is a beautiful way to complement the exterior of your property, but an important step in landscaping that should never be skipped is the precise and correct application of mulch or some other ground cover.
Mulch has aesthetic benefits, but it also protects your plants and soil. We install mulch ground cover by hand for residential, commercial, and HOA properties in Chesterfield, Macomb, Shelby, and surrounding cities of Michigan.
---
Popular Types of Mulch in Our Area
In our area of Michigan, there are several popular types of organic hardwood mulch that we install for our clients. The colors of mulch we use include:
Dark brown/mocha
Black
Red
Orange
Our teams install mulch by hand and we always lay it down in a layer that is 2-3 inches thick. It is also important to replenish mulch on an annual basis so your plants and soil will benefit from the ground covering.
---
Why Does Your Landscaping Need Mulch Installation?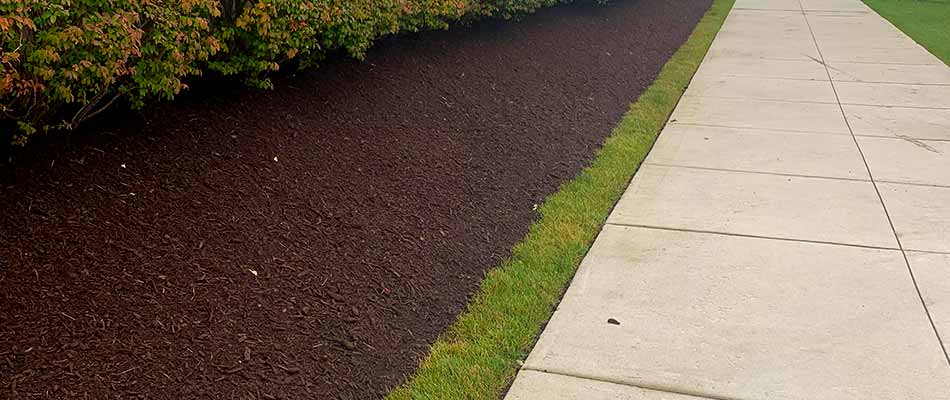 Aside from the aesthetic appeal, mulch provides extensive benefits to your landscape, which is why your plants and soil need it.
Mulch helps prevent weed growth. When landscape beds are properly covered, then you will see minimal weed growth. This helps your landscape plants because there will not be any weeds taking up valuable nutrients and resources from the shrubs and hedges that you have planted.
A thick layer of mulch helps retain moisture. In the summer especially, the heat of the sun can evaporate any moisture in your soil. This can be harmful to the plants because they need all the moisture they can get when they sit in the hot sun all day. Mulch shields the moisture from evaporating and keeps it in the soil where it belongs.
Ground cover insulates soil and plant roots. When we switch from winter into spring, there can be times of late frost that harm plants. Mulch will regulate the soil temperature and keep plant roots warmer than the surrounding air, which helps to protect them from any cold air that can be bad for them if they have started to come out of winter dormancy.
Mulch can stop soil from eroding. When it rains or the snow begins to melt, that water runoff will take soil with it if there is not something to stop it from happening. A proper mulch layer stops soil from eroding away.
Another benefit of organic mulch is that it breaks down over time, providing beneficial matter to the soil and increasing nutrients.
---
Add mulch to your landscaping beds today! Call us.
Our landscape company installs quality, beautiful mulch in landscape beds at residential, commercial, and HOA properties throughout the areas of Macomb, Shelby, Chesterfield, and other cities in Michigan. Call us today at (586) 200-0855 to get an estimate on our mulch installation services!