Top-rated landscaping and lawn care services for New Baltimore, MI, and the nearby cities.
Have the greenest, healthiest lawn on the block with routine fertilization, aeration, and much more.
Situated right on the coast of Lake St. Clair's Anchor Bay, the town of New Baltimore, MI has gorgeous views and lots to do outside. Our company helps to keep residential and commercial properties in the area looking beautiful with the greenest and healthiest lawns on the block.
Our top-rated lawn care and landscape services include aeration, fertilization, lawn mowing, mulch installation, and much more.
---
Lawn care and maintenance work to keep your grass in top condition.
We provide expert lawn maintenance and care services designed to ensure your grass stays in top condition. With our expert lawn care program that includes fertilization and weed control, you can have a green, verdant lawn that is weed-free and healthy enough to fight off lawn diseases and insects. Aerate and overseed your lawn to revitalize it and relieve any compacted areas of soil. Aeration involves poking tiny holes into the soil to loosen the hardened soil, while overseeding increases the growth of healthy grass in the lawn.
Weekly lawn mowing visits are provided to keep the grass from getting too tall and seasonal spring and fall cleanups are offered to clear off lawn debris. If you need a new lawn, we can also install new sod for your New Baltimore property.
Our snow removal services are also available for homes and businesses throughout the New Baltimore, MI area.
---
Our landscapes are known across the area for being unique and gorgeous.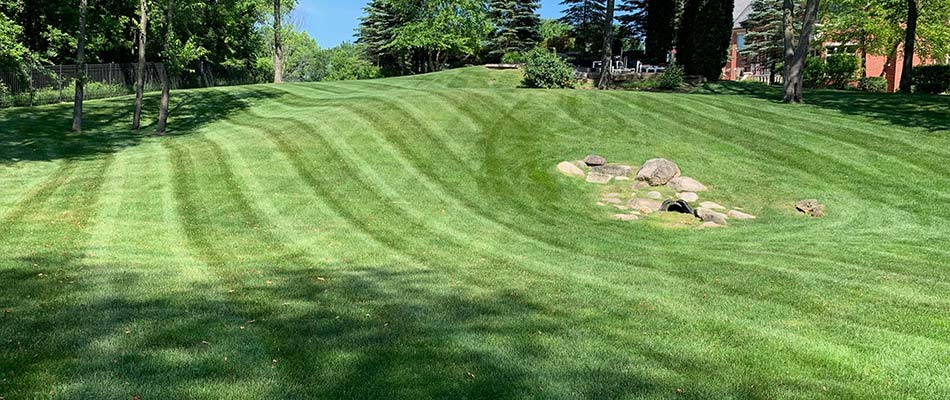 Custom landscaping can add to the value of your property and increase your overall curb appeal. Our company can install brand-new landscape beds or will perform high-quality bed renovations with all new plant material. Once the landscape plants have been installed, we can maintain the area with routine shrub trimming and install new hardwood mulch. Mulch protects landscape plants, insulates soil, and more. It should be replenished once a year for maximum benefits.
We also plant warm-season and cool-season annual flowers with vibrant blooms that will last for months. Annuals have many benefits for your landscape beds and can even shed seeds, which means you may have new plants the following year.
---
Do you need landscaping or lawn services at your property in New Baltimore, MI? Give us a call for an estimate.
In the coastal town of New Baltimore, MI, our company offers expert landscaping and lawn care services to residential and commercial properties. If your property is in need of expert services, our 5-star rated company is here to help. Give us a call today at (586) 200-0855 so that we can provide you with an estimate.