Walkway Installation Service in Macomb, Chesterfield, Shelby, MI & Surrounding Cities
We follow a comprehensive, step-by-step process to ensure we install your walkway perfectly.
Walkways are one of those outdoor living additions that can be both functional and decorative. Our team can design and install a walkway that helps you and your guests move around your outdoor living space while also blending in perfectly with the aesthetics of the rest of your property.
We use top-of-the-line materials like pavers, stained concrete, and stamped concrete to build long-lasting, beautiful walkways. At the beginning of our service, we'll consult with you to understand your goals and vision for your walkway before creating a design rendering for you to approve. Then, we'll follow a comprehensive, step-by-step installation process to ensure we install it perfectly. If you want to go the extra mile, schedule our hardscape cleaning and sealing service to keep your walkway looking its best year after year!
We offer our walkway installation service to commercial and residential properties in Macomb, Chesterfield, Shelby, MI, and other nearby areas. Call us at (586) 200-0855 to get started today!
---
What materials do we use to build your walkway?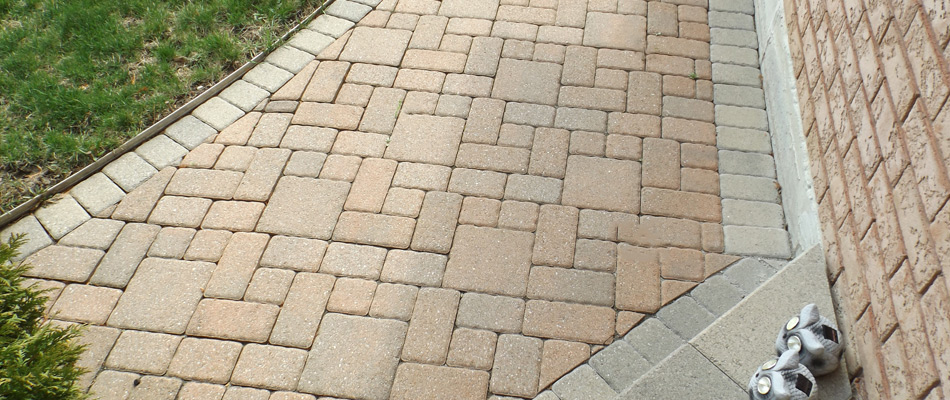 Choosing the right material is crucial when building your walkway because it needs to only complement your overall aesthetic but also stand the test of time. At Big Lakes Lawncare, we offer several different material options for you to choose from, all of which are both durable and eye-catching:
Pavers: Pavers are highly versatile and can be installed in various patterns to create unique walkway designs. They're also easy to maintain!
Stained Concrete: Stained concrete is sturdy and comes in a variety of colors to add visual interest to your walkway. It's also easy to clean and doesn't need much maintenance.
Stamped Concrete: Stamped concrete creates a textured look that's aesthetically appealing, plus it's extremely durable and low-maintenance.
We have been installing walkways since 2014!
---
Our Walkway Design & Installation Process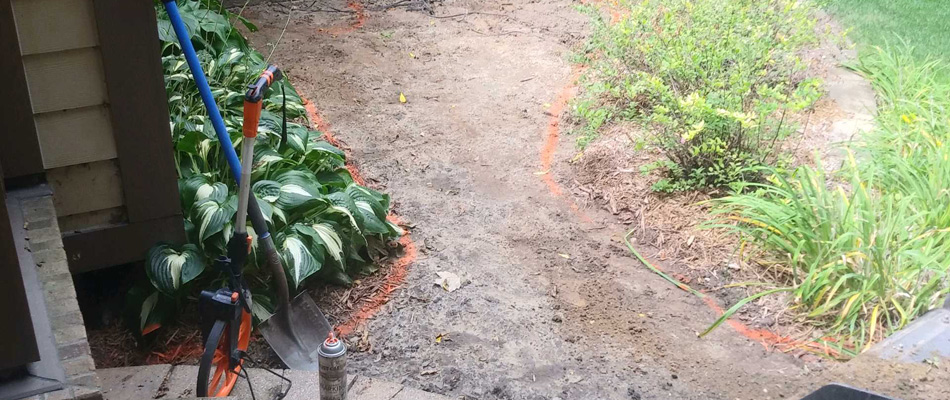 At Big Lakes Lawncare, we take pride in providing a comprehensive walkway installation service that starts with a consultation so we can learn about your goals and preferences. Afterward, we'll create a design rendering of your walkway using our expertise, creativity, and experience to bring your vision to life.
Once we finalize everything, we'll get to work installing your walkway. Our team will clear out any existing vegetation and debris and smooth out the area, then carefully lay down the building materials. With us, you can rest assured that we'll install your walkway with extreme care so that you can enjoy it for years to come!
---
Illuminate your walkway at night with our landscape lighting service.
Your new walkway won't be much help once the sun sets! Landscape lighting can illuminate your walkway to make it safer for you and your guests after the sun goes down. We use low-voltage LED lights that are long-lasting and energy-efficient. Our team can help you choose the perfect landscape lighting design to not only ensure that the right parts of your new walkway are illuminated, but also that it fits your aesthetic preferences.
---
Call Us Today To Schedule Our Walkway Installation Service
Are you ready to install a new walkway on your property? If so, we've got you covered! At Big Lakes Lawncare, we offer our professional walkway installation service to homeowners, business owners, and HOAs in Macomb, Chesterfield, Shelby, and throughout the surrounding areas in Michigan. We've been serving local property owners since 2014 and look forward to helping you soon. Call us at (586) 200-0855 to sign up for our walkway installation service today!