Pergola Installation Service in & Around Macomb, Chesterfield & Shelby, MI
We use high-quality kits to build long-lasting pergolas.
Pergolas are large structures that add flair and function to your outdoor living space. These hardscapes can increase privacy in your outdoor area and provide the perfect spot to hold your gatherings. Here at Big Lakes Lawncare, we offer a pergola installation service to homes, businesses, and HOAs in Macomb, Chesterfield, Shelby, MI, and nearby areas.
We build pergolas using the highest quality kits, so you can rest assured that your outdoor feature can stand the test of time. We also make sure that we follow proper installation when assembling the kits. Additionally, our team can install outdoor lighting so you can maximize this feature even when the sun has set! Give us a call today at (586) 200-0855 to sign up for this service.
---
Our team can install pergolas using pre-made kits.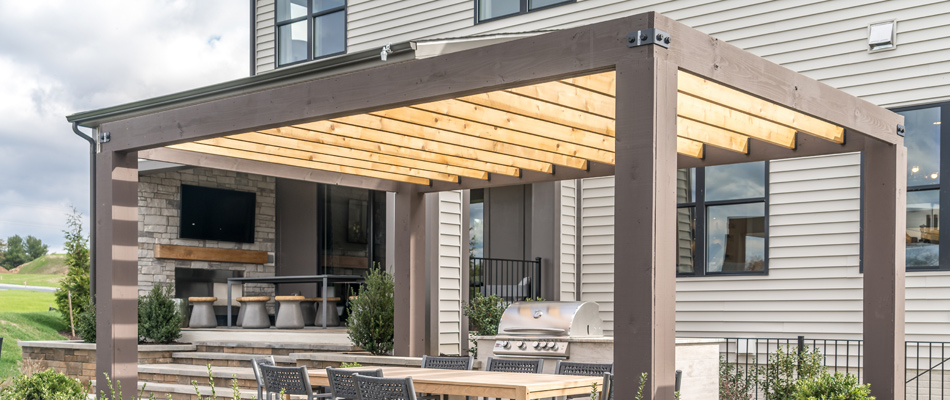 Our crew installs pergolas that are made to last. We use pre-made kits built with durable materials that are of the highest quality, so you can be sure that your pergola will stay a focal point on your property for years to come. We also offer kits because it allows us to finish installation much faster. Because the materials and parts are already available, our team can easily assemble them, allowing you to enjoy your new outdoor feature in no time.
---
We follow a thorough installation process when building pergolas.
Your pergola is only as good as the quality of installation, and you can trust that you'll receive nothing less than perfection from our team. Proper installation of your pergola is important to ensure your new outdoor feature is sturdy and can withstand the test of time, so when you work with us, you can trust that we will thoroughly follow the correct procedure. We'll provide unmatched attention to detail and exercise precision, plus we'll keep you informed every step of the way. From ensuring the foundation of your pergola is solid and stable to installing the beams and other finishes, you can be sure that it is built to last.
We can create a 2D or 3D design rendering of your pergola so you can see how it'll look before installation begins!
---
Take advantage of our outdoor lighting service so you can utilize your pergola at night.
When the day has come to an end, there shouldn't be any reason why enjoying your new pergola has to stop, too. On the contrary, you can take advantage of our outdoor lighting service to bring life to your pergola at night. With this service, we will illuminate it with high-quality LED lights that are long-lasting and energy-efficient. Additionally, we can utilize various lighting techniques, like moonlighting, shadowing, and silhouetting, to strategically brighten up your outdoor space while showcasing the beauty of your new feature.
---
Elevate your outdoor area's beauty with a pergola. Call us today to schedule our pergola installation service!
Have you been planning to add a pergola to your outdoor living area but don't know where to start? Let our team at Big Lakes Lawncare handle it! We install top-of-the-line pergolas that will undoubtedly elevate the beauty of your outdoor space. Our pergolas are also low-maintenance, and we only use the highest quality materials to provide the perfect spot to gather for years to come.
We offer our pergola installation service to commercial and residential properties, as well as HOAs, in Macomb, Chesterfield, Shelby, MI, and nearby areas. Give us a call today at (586) 200-0855 to schedule our service.