If you want to establish a new lawn in Macomb, MI, the first question is whether to sod or seed. The two methods differ in several ways, including the time it takes to have an established lawn.
At Big Lakes Lawncare, we offer a complete range of lawn maintenance and care services, including seeding and sod. Let's take a look at the differences between the two methods and each option's benefits and drawbacks.
---
Sod may be the right choice for your lawn, find out why!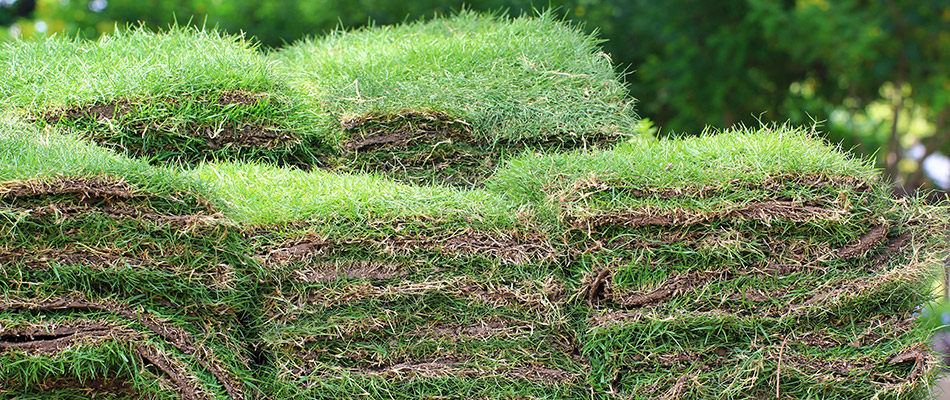 Sod consists of fully grown grass sections, each with a root system in a layer of soil. Installing sod involves rolling out the sod over the area where you want to establish a new lawn.
Laying sod changes your lawn's appearance immediately, and you don't have to wait weeks for the grass to grow.
You can install sod almost any time during the year from mid-April through Oct. As long as the root system has time to penetrate the soil before the first freeze. However, we recommend installing new sod early to mid-fall when the grass will continue to grow even when the temperatures are cooler.
Sod protects the soil. A layer of sod prevents soil exposure and erosion by slowing down soil run-off. Sod also improves water drainage.
Sodded lawns have a better chance of survival. Sod will require less time and work from you the homeowner than a seeded lawn. New sod is stronger and able to ward off new weed growth and is less susceptible to disease.
---
Seeding a new lawn can also be a great option to repair your lawn.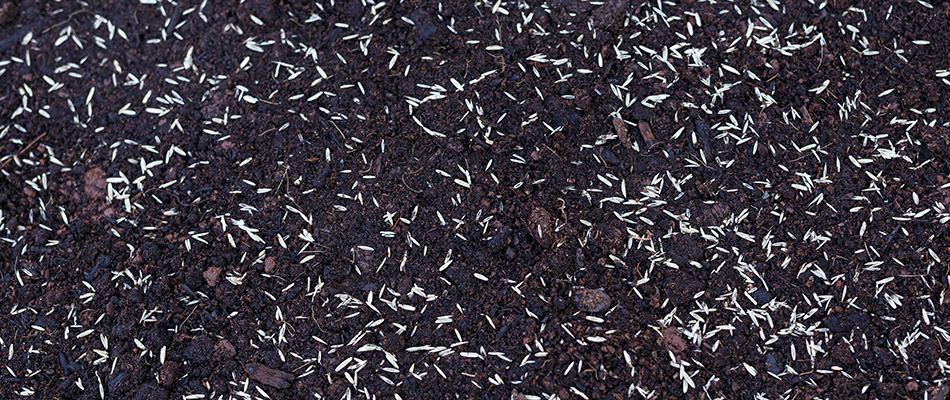 Seeding is an affordable option. The initial cost of seeding a lawn is lower in comparison with sod. Keep in mind that caring for your lawn is more effort and will need more irrigation to establish the seed.
You have access to a selection of grass varieties. With sod, Kentucky Bluegrass and Tall Fescue are the 2 main types of sod we install. However, when seeding your lawn, you can choose from different varieties or even mix them, ensuring optimal growth. Common seed choices include Kentucky Bluegrass, Perennial Ryegrass, Tall Fescue, and Fine Fescue.
Potential for a healthy lawn. With seeding, grass growth, root growth, and germination occur in the same location, allowing for the optimal establishment and a healthy root system.
---
We recommend sod being a better choice when establishing a new lawn.
At Big Lakes Lawncare, we recommend sod over seeding in Macomb, Chesterfield, Shelby and surrounding Michigan areas to establish a new lawn. Sod is a better option than seeding as it increases your likelihood of growing a healthy lawn while reducing the effort necessary to care for your lawn. Sod also instantly transforms your lawn's appearance, and you can access the area immediately.
---
Disadvantages of Seeding a New Lawn
Seeding a new lawn can be a cost-effective way to grow a beautiful lawn on repair bare spots in your existing lawn. However, this method has several disadvantages:
Establishing a lawn through seeding is a process and takes anywhere from a few weeks to months
You can only seed your lawn during late summer or early fall
You can't access the area before seed establishment
The risk of erosion remains high until the lawn's root system begins to establish itself.
---
Want a New Lawn? We Can Help—Contact Us Today
If you are thinking about repairing or replacing your lawn in Macomb, Chesterfield, Shelby or surrounding Michigan areas, call our lawn care experts at Big Lakes Lawncare. We'll provide you with a solution that meets your unique needs and soil conditions.
To schedule a seeding or sod laying service or request a free, no-obligation estimate, contact us today at (586) 200-0855.