An outdoor kitchen is a worthwhile investment for your property in Michigan because it makes it more functional and increases its overall value! However, you can take this hardscape to the next level by adding various amenities to make it just as, or more, equipped than your indoor one! For example, a pizza oven can provide a unique and delicious cooking experience. Meanwhile, a refrigerator and wine cooler can keep food and drinks chilled and easily accessible. A sink is a convenient addition for food prep and cleaning, while outdoor lighting can create an enchanting ambiance and make it functional even at night. By adding these amenities, you can turn your outdoor kitchen into the go-to spot for entertaining, gatherings, and special occasions.
---
1. Pizza Oven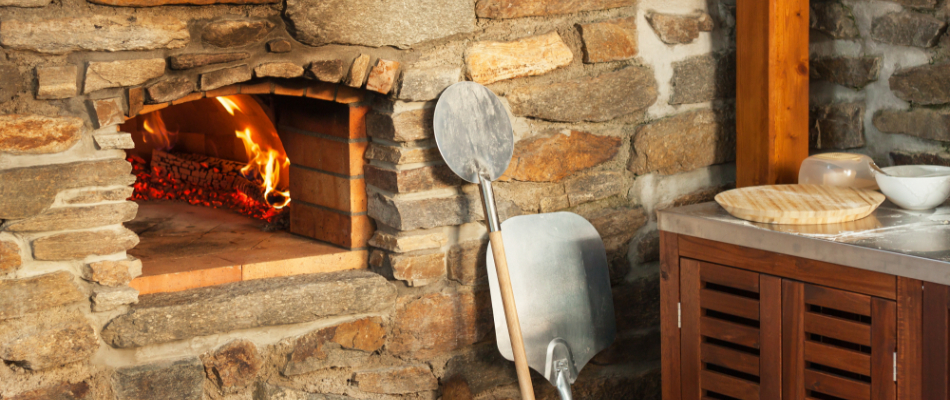 If you're a pizza lover, a must-have for your outdoor kitchen is none other than a pizza oven. Adding this amenity will take cooking pizzas to the next level and deliver restaurant-quality results every time. Not only does it cook them to perfection, but it also gives them a unique smoky flavor that you can't get from a regular oven. Plus, pizza ovens are versatile and can be used to cook other dishes, such as roasted vegetables, meats, and bread.
---
2. Refrigerator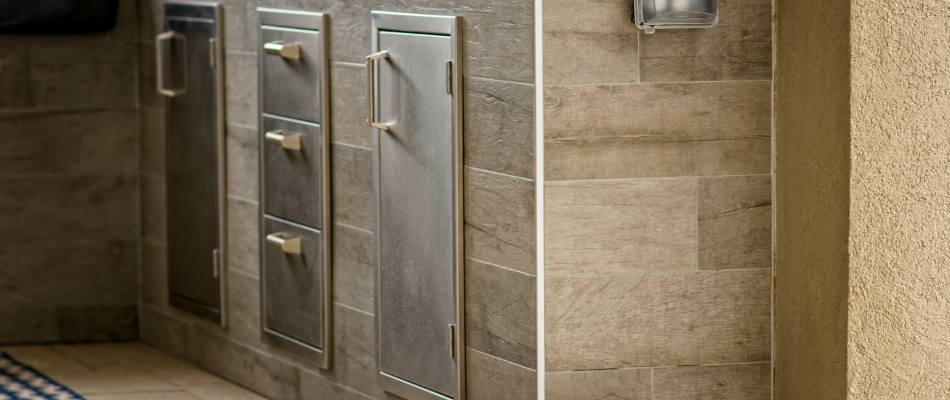 Adding a refrigerator to your outdoor kitchen is a game-changer when it comes to convenience. After all, it saves you from running inside over and over to grab cold drinks, snacks, or ingredients you need while cooking. With a fridge, you can keep everything within arm's reach, making cooking in your outdoor kitchen easier and more enjoyable.
---
3. Wine Cooler
Having a wine cooler in your outdoor kitchen brings many benefits and will take it to the next level. A wine cooler is specifically designed to store bottles at their ideal temperature, helping to preserve the taste and quality of your wine! Not only that, but it allows you to serve guests with ease, as you can simply grab a bottle without having to go inside.
---
4. Sink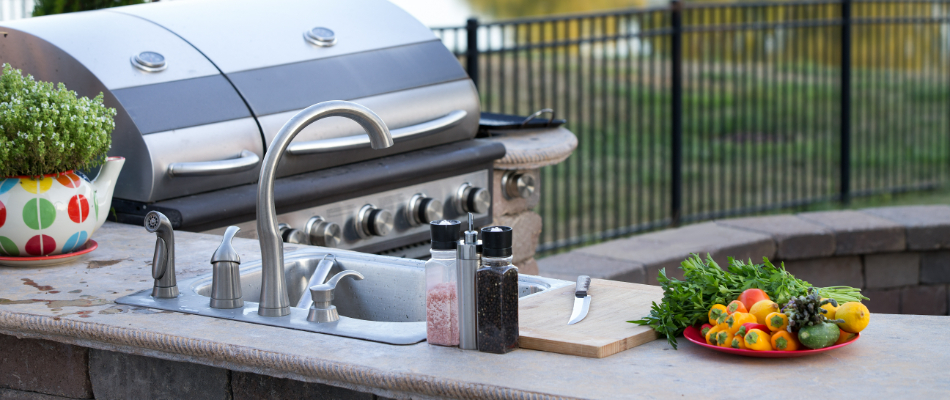 Installing a sink in your outdoor kitchen is a smart move for convenience and functionality. Having access to running water outside means you don't have to go inside to wash hands or clean utensils. A sink is also great for food prep, as it allows you to rinse produce or wash meats before cooking your meals. It can also come in different sizes and styles, from a simple setup to a more elaborate design, making them a great addition to any outdoor kitchen. Additionally, it's an essential element for keeping your cooking area clean and hygienic, especially when entertaining guests.
---
5. Outdoor Lighting
Lighting can transform your outdoor kitchen and take it to the next level. Not only does it highlight its features, but it also adds an element of safety and functionality. Strategically placed lighting can illuminate key areas of your outdoor kitchen, such as the grill, sink, and prep station, making it easy to navigate and use even at night. With outdoor lighting, enjoying it doesn't have to end once the sun goes down!
You'll want to use low-voltage LED lighting for your outdoor kitchen, as it's energy-efficient, long-lasting, and durable!
---
Give us a call today to schedule our outdoor kitchen installation service!
If you want a beautiful outdoor kitchen installed on your property, turn to our pros at Big Lakes Lawncare! Since 2014, we've worked with residential and commercial property owners, as well as HOAs, throughout Macomb, Chesterfield, Shelby, MI, and surrounding areas to create highly functional and decorative outdoor kitchens. Whether you want to add a pizza oven, refrigerator, sink, wine cooler, outdoor lighting, or all the above - we've got you covered. Call us today at (586) 200-0855 to schedule a consultation for our outdoor kitchen installation service!