With so many lawn and landscape companies out there, it can be difficult finding one with enough experience servicing commercial properties. Some may claim to be highly reputable, but there are plenty of fly-by-night operations looking for a quick buck.
Hiring an uninsured landscape company in Macomb, Chesterfield, or Shelby that can't provide many references for their services should be avoided at all costs. Otherwise, it could end up costing you more in the long run.
Before you go call the first business you find, be sure to ask these important questions when searching for a professional commercial landscaping company.
---
What is your level of expertise?
Residential and commercial lawn and landscaping maintenance are NOT the same. Ideally, you want to work with a landscape service that has a background working on different types of properties. These companies should be able to provide you with several references or a portfolio of their work. Make sure the commercial landscaping crew you hire shows knowledge in:
Softscape trimming and pruning
Proper mowing, trimming, and edging
Irrigation experience for large commercial properties
All Big Lakes Lawncare employees are trained in-house by our green industry experts who are well-versed in the best lawn and landscape practices for businesses.
---
Is your company licensed and insured?
Most professional commercial landscape companies are licensed to do business in their area and will have general liability and workers compensation insurance. They are responsible for the safety of their employees and any liability caused on the job. You want to make sure any damage or accidents are fully covered so you don't end up with the bill.
---
Do you have any professional affiliations?
It's not a requirement to belong to a particular organization, but most well-respected commercial landscape companies will be to improve their credibility.
Big Lakes Lawncare has affiliations with the Better Business Bureau where we've received an A- rating for our work. We also belong to the Michigan Green Industry Association, which is a professional trade association serving the green industry for more than 50 years!
---
Can they provide a track record of past clients?
References are one of the most important pieces to have when hiring any kind of service. A reliable commercial landscape company will keep a record of all their past clients and work projects.
Asking for this information gives you the opportunity to follow up with the customers and learn more about their experience with the landscape company. You can ask about the work quality, communication methods, and how well they cleaned up after the services. Some may even allow you to walk around their property for a better look.
---
Searching for a reputable commercial landscaping company? Contact our team at Big Lakes Lawncare today!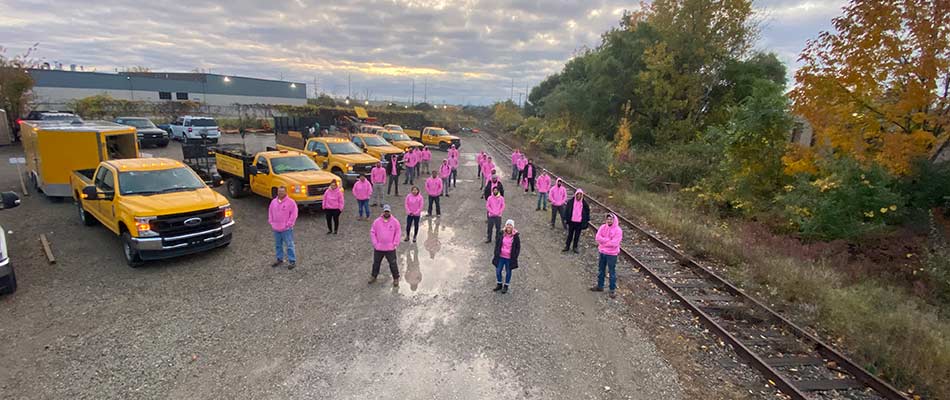 Big Lakes Lawncare is one of the top-rated commercial lawn and landscaping companies in Macomb, Chesterfield, and surrounding areas with hundreds of 5-star reviews. We provide several landscaping services for commercial properties, including seasonal cleanups, weekly mowing, aeration and overseeding, and more!
Call (586) 200-0855 to receive a quote or speak with a team member about our additional services.