Your fertilizer is jam-packed with an assortment of nutrients designed to keep your lawn in tip-top condition, and one of those nutrients is called potassium. Potassium is an essential nutrient that wears many hats. For starters, it's responsible for helping your grass survive when the temperature changes, which is an important job here in Michigan with our frigid winters and hot summers. Potassium also strengthens the cell walls of your grass, allowing it to retain moisture for longer periods. Last, but certainly not least, potassium increases your lawn's resistance to turf diseases.
Potassium is one of three nutrients that are most commonly found in lawn fertilizers, the other two being nitrogen and phosphorus. Together, these three nutrients keep your lawn strong, healthy, and green.
---
Potassium helps your grass survive temperature changes.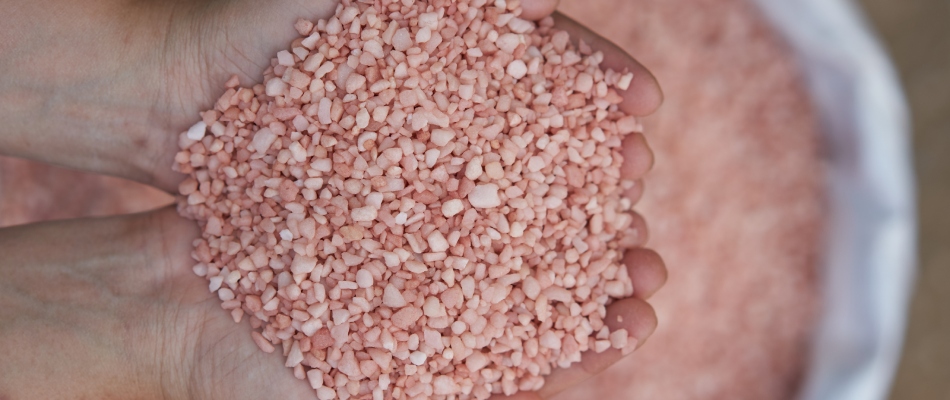 Here in Michigan, it is pretty inevitable that your lawn will be exposed to fluctuating temperatures. This can end up stressing your grass out throughout the year. That is where potassium comes in! Potassium boosts your grass's heat resistance and cold hardiness. So, when you supply your lawn with potassium before the winter and summer seasons, you're preparing it to survive those stressful periods. In fact, potassium is typically the main ingredient found in winterizer fertilizer—a fertilizer designed to prepare your grass for the winter season when it goes dormant.
---
Potassium helps strengthen cell walls in your grass.
It's no secret that summer is a rather challenging time for your grass. The heat coupled with long droughts is enough to lead your grass to an untimely demise. However, potassium can help your lawn survive the summer because it will not only be better at taking on the heat, but it will also be better at withstanding droughts. This is because potassium strengthens the cell walls of your grass which, in turn, helps your grass retain more moisture!
---
Potassium will boost your lawn's resistance to diseases.
Lawn disease is a prevalent threat to your grass throughout the year. Certain diseases such as dollar spot can negatively impact the health and appearance of your lawn, leaving you with extra work to nurse it back to health. To help prevent diseases from impacting your grass, you should regularly supply it with fertilizer that contains potassium. That's because potassium strengthens your grass and increases its resistance to turf diseases and its ability to bounce back from them!
---
Many lawn fertilizers also include nitrogen and phosphorus.
Most fertilizers contain more than just potassium as their main ingredient. Typically, you'll find some combination of nitrogen, phosphorus, and potassium in a lot of fertilizers. Nitrogen is considered the most important nutrient for your lawn. After all, it is primarily responsible for stimulating grass growth while also helping it green up. Phosphorus, on the other hand, is crucial for your lawn's root development, making it especially important when first establishing a new lawn. Together with potassium, these nutrients provide several benefits for your lawn so that it can remain strong and healthy even during the most difficult times of the year.
Pair fertilizer with weed control treatments so your grass isn't competing with weeds for nutrients and can be at its best year-round!
---
Give us a call today and sign up for our lawn fertilization program!
Your lawn needs a fertilizer that provides it with the nutrients it needs to not only survive but thrive. At Big Lakes Lawncare, we apply a balanced fertilizer throughout the year that includes nitrogen, phosphorus, and potassium—all the nutrients your grass needs to flourish! We service commercial, HOA, and residential properties in the Macomb, MI area, including surrounding areas like Chesterfield and Shelby. Give us a call today at (586) 200-0855 to sign up for our lawn fertilization program!