Maintaining your garden doesn't have to come with a never-ending to-do list. By using plants that are native to our area such as cardinal flowers and wild geraniums, you can easily create a beautiful, low-maintenance landscape bed. Not only will native plants make for an easier gardening experience, but mulch will as well! With native plants and a mulch ground covering on your side, you'll have an eye-catching garden with little to no effort!
---
The Link Between Native Plants & Lower Garden Maintenance
Since native plants in Michigan are indigenous to our region, they tend to require less maintenance and upkeep than plants that have adapted to survive in other environments. While non-native plants may need fertilizer, that's rarely the case for native plants unless you're struggling to get them to take hold.
Even better, native plants don't need to be watered as frequently as they've adapted to the amount of rain that regularly falls in the area. Depending on the plants you select for your garden, you might be able to avoid costly irrigation expenses and leave much of the watering up to mother nature.
Lastly, Native plants are also more resistant to native weeds. Since they've adapted to their natural conditions, they're hardier, grow faster, and have evolved defenses against some of their area's pests, weeds, and plant illnesses.
---
What are Macomb, MI's native plants?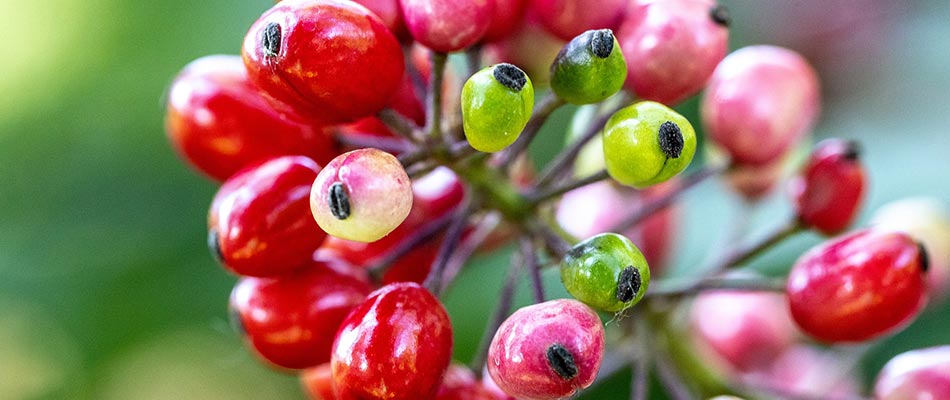 About 70% of Michigan's plant species are native plants, and Michigan State University maintains a catalog of each of them in the Southern Lower Peninsula. The list is split into wildflowers, ferns, trees, and grasses.
Here's a rundown of some of the native wildflowers in Macomb, MI:
White and Red Baneberry
Canada Anemone
Wild Columbine
Wild Ginger
Blue Cohosh
Turtlehead
Common Boneset
Wild Strawberry
Wild Geranium
Cardinal Flower
Next, here are some of the ferns native to Macomb, MI:
Lady Fern
Maidenhair Fern
Ostrich Fern
Sensitive Fern
For those who enjoy decorative grass, here are some grasses native to Macomb, MI:
Big Bluestem
Pennsylvania Sedge
Tussock Sedge
Bottlebrush Grass
Soft-stemmed Rush
Switch Grass
Little Bluestem
Indian Grass
Lastly, for those who appreciate trees, here are some of Macomb, MI's native trees:
New Jersey Tea
Smooth Serviceberry
Red-osier Dogwood
Hazelnut
Winterberry
Spicebush
Ninebark
Wild Black Cherry
---
Use Mulch to Further Reduce Your Garden Maintenance
Not only will native plants reduce the amount of maintenance you need to put into your garden beds, but so will mulch! Mulch will help your soil retain more water. When you couple this with the rainwater that your native plants will retain, you can dramatically cut down on the amount of watering that you have to handle yourself. Mulch also limits the amount of sunlight that weed seedlings are able to receive, which means that fewer weeds will sprout up in your beds!
When applying mulch, you'll want to keep it 3-4 inches away from the base of your plants. This ensures they can absorb all of the water they need to remain healthy.
---
Call us if you want help creating a beautiful custom garden with native plants
When you let us work on your property, we'll treat it as if it were our own and transform it into a true masterpiece! Whether you want to cultivate a custom garden with native plants, add fresh mulch, or replace old mulch, we're happy to take care of all of your garden needs.
We've been making clients in the Macomb, MI area happy since 2014, and we have the experience to help you make the most of your garden. If you own a home or business in Macomb, MI or a nearby area such as Chesterfield or Shelby, give us a call at (586) 200-0855 to schedule a consultation!