Increasing your curb appeal is enough reason to start the search for the most amazing flowers your region has to offer. Summer-blooming flowers are an excellent addition to any landscape, especially when you obtain those that produce a stunning display of colors that is nothing short of glorious when in full bloom.
Five summer blooms in Michigan that you might want to consider are bright eyes, tomato soup coneflower, orange garden lily, snow lady, and bubblegum blast. Continue reading to learn more about these flowers.
---
1. Bright eyes
Bright eyes or garden phlox is a herbaceous perennial that requires a lot of care to bloom in its full glory during its bloom period of July to September. The bright eyes flower needs sun to blossom, and while it will tolerate light shade, too much may decrease its flower quantity and subject the plant to several diseases. This flower also needs sufficient air circulation, so make sure you keep bright eyes away from tall fences. A well-draining soil that will provide this flower with enough moisture to thrive is also necessary.
Given the right growing conditions, the bright eyes flower will reward your landscape with stunning salmon-pink flowers that give off a beautiful scent.
---
2. Tomato Soup Coneflower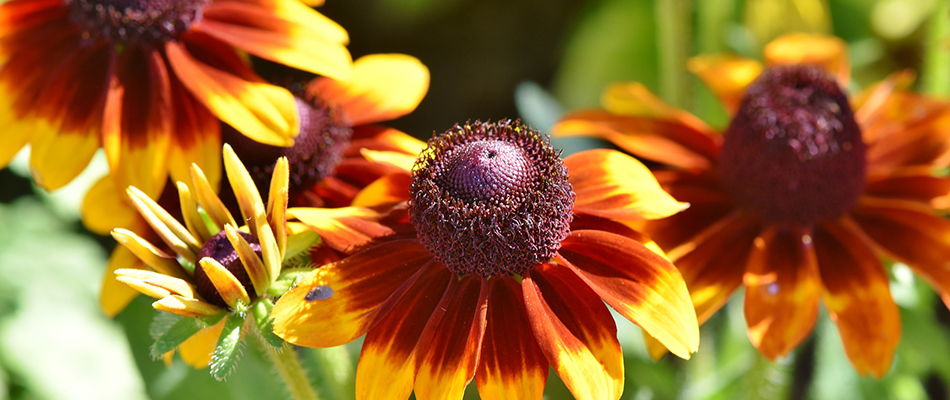 The tomato soup coneflower is a hybrid variety of the Echinacea flower. It is a summer-blooming herbaceous perennial that loves to be under the full sun but will tolerate partial shade. The tomato soup coneflower also needs good draining soil and a regular watering regimen to keep it in its best state.
True to its name, the tomato soup coneflower has a tomato red bloom. It has a habit of growing in clumps, making them the ideal plant in borders and as accents. During its maturity, this flower will grow up to three inches in width and height.
---
3. Orange Garden Lily
If you want undemanding beauty in your landscape, orange garden lilies are your best choice. Its drop-dead gorgeous trumpet-shaped flowers will make your yard a stunning sight for everyone. While lilies have other colors, the orange variety stands out because of its low-maintenance charm. Placing them in areas where they will receive full sunlight to partial shade and planting in well-draining soil will assure you of their healthy growth. Regular watering is also necessary to prevent orange lilies from drying out.
---
4. Snow Lady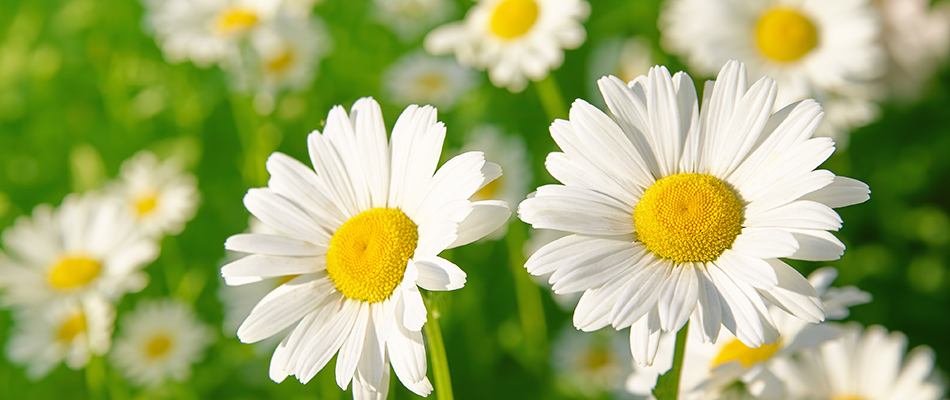 Snow lady, otherwise known as shasta daisy, is a favorite among homeowners because of its unmatched charm. This flower has white petals and a bright yellow flower head that grows low in a mound. This flower also has dark green foliage that provides a good backdrop for its vibrant and showy blooms. To be able to get the most out of this stunning plant requires:
Full sun to partial shade
Well-draining and moist soil
Occasional deadheading
Enough space between the flowers when planting
---
5. Bubblegum Blast
The bubblegum blast looks as fun as it sounds. It is also called bee balm, and it boasts hot pink flowers that grow in low mounds, creating a cushion-like appearance on your property. The bubblegum blast's flowers have sweet nectar that attracts pollinators.
This plant needs to receive full sun to grow successfully, but it won't shy away from some shade. The bubblegum blast does not require too much maintenance. However, it will need some deadheading in late fall to prepare the plant for winter.
The flowers of bubblegum blast smell like mint when crushed and are suitable for making tea.
---
Contact us today and get an estimate on our planting services!
Adding plants to your landscape is a surefire way to improve the curb appeal of your property. At Big Lakes Lawncare, we offer plantings and bed renovation services, along with annual flower and seasonal color installations. We mainly offer plants that grow naturally in our area, so you won't have to maintain them as much, but we can also go the extra mile if you have a plant in mind.
We offer our services to properties in Macomb, Chesterfield, Shelby, MI and the surrounding communities. You can reach our professionals at (586) 200-0855 to get an estimate on our planting services.