Lawns in Michigan are comprised of cool-season grass, which thrives during the cooler weather and does a lot of its growth in the fall to prepare for winter dormancy. With this in mind, you should think about scheduling fall services for your lawn, like aeration, overseeding, leaf removal, and a fall yard cleanup service. With these 4 services, your lawn can be fully prepared for the winter! Aeration loosens compacted soil and gives your lawn's roots better access to essential resources. Overseeding fills your lawn with new grass to create a dense lawn that will fill in any bare or patchy areas. Leaf removal and a fall cleanup service will keep your property free of leaves and debris before the winter season kicks in. It might seem premature, but these services are so popular in the fall that you should start scheduling them now before companies become fully booked!
---
1. Aeration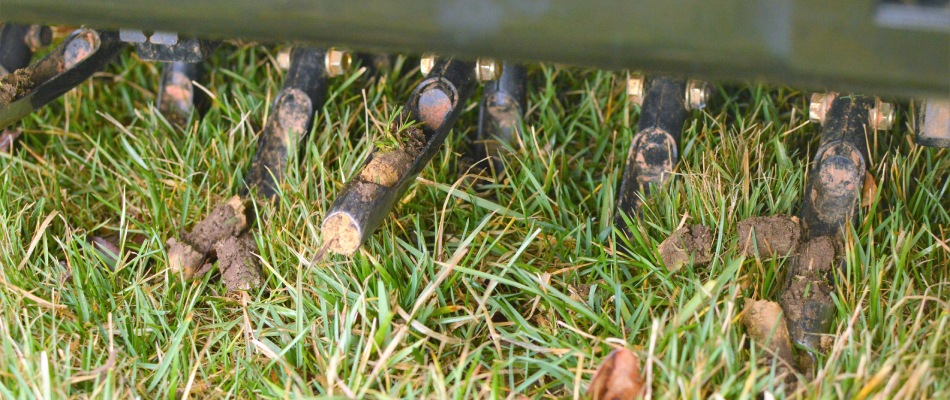 Aeration is the process of removing small cores of soil from your lawn to alleviate soil compaction and make it easier for nutrients and other resources to reach the roots of your grass. This is an invasive process, so it should be scheduled in the fall when your cool-season grass will be at its strongest so that it can endure this process and recover quickly. Another reason to schedule this service in the fall is that it will allow your lawn to store up the nutrients and other resources that it will need to make it through the harsh winter season.
---
2. Overseeding
Overseeding is another great fall service that thickens your lawn in preparation for winter dormancy. It will fill in any patchy areas on your lawn and leave fewer opportunities for weeds to sprout and steal nutrients from your grass. Not only that, but the seeds will grow into strong, healthy green grass that's more durable and resistant to lawn diseases and insect infestations.
It's best to schedule overseeding directly after aeration. The holes created through aeration provide the perfect spots for seeds to fall into and enhances their chances of germinating successfully!
---
3. Leaf Removal
Leaf piles are a staple of the fall season, but excessive build-up on your lawn increases the likelihood of diseases and insect infestations. Fortunately, most professionals offer a leaf removal service in the fall to remove leaves before the snow starts falling, helping to prevent these problems. Many companies even use large vacuums to suck them up and completely remove them from your property, so you won't be left with large leaf piles on your curb.
---
4. Fall Yard Cleanup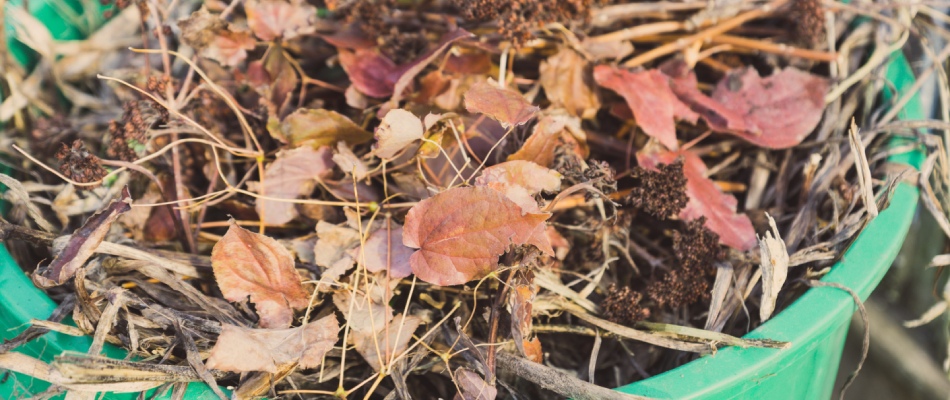 During the winter in Michigan, your lawn will likely be covered in snow for several months. During this time, your grass goes dormant; it doesn't grow or absorb any nutrients. Instead, it stores everything it needs in the fall to maintain its health throughout the winter. However, if there is excessive debris on your lawn when the snow starts falling, it will trap this debris on your lawn throughout the winter season, and this can cause numerous problems for your lawn, such as an increased chance of your lawn succumbing to a lawn disease. Scheduling a fall yard cleanup service before winter will ensure that your lawn is clear of any debris and that it's in good condition before winter dormancy arrives.
---
Call us to schedule our aeration, overseeding, leaf removal, and fall yard cleanup services for your lawn this fall!
At Big Lakes Lawncare, we provide high-quality fall services to prepare lawns in and around Macomb, Chesterfield, and Shelby, MI for the winter season. With our aeration, overseeding, leaf removal, and fall yard cleanup services, your lawn will be set up for success and ready to endure the snow and cold. Although it's still early to be thinking about the brisk wintertime, scheduling these services early enough will ensure that we can fit you into our schedule. Give us a call today at (586) 200-0855 to sign up for our fall services!