Lawn care and landscaping company servicing properties in St. Clair Shores, MI, and nearby communities.
We provide lawn care, lawn maintenance, and landscaping services to homes and properties in St. Clair Shores, MI.
Located about 13 miles north of Detroit, St. Clair Shores is a suburban city hosting many beautiful residential and commercial properties. Just a few miles away from "Hitsville USA", most tourists make a trip to the Motown Museum one of their first stops when visiting this charming city. Sitting right on Lake St. Clair, I'm sure you can guess how this city got its name. From just about any point in the area, you can see picturesque views of the glistening lake whether you're casually bike riding or visiting the infamous Belle Isle Park.
Big Lakes Lawncare has offered a variety of lawn maintenance, lawn care, and landscaping services to communities in this area for years. If you have a home or property in St. Clair Shores or a nearby community, we can do the same for you!
---
Full-Service Landscaping Services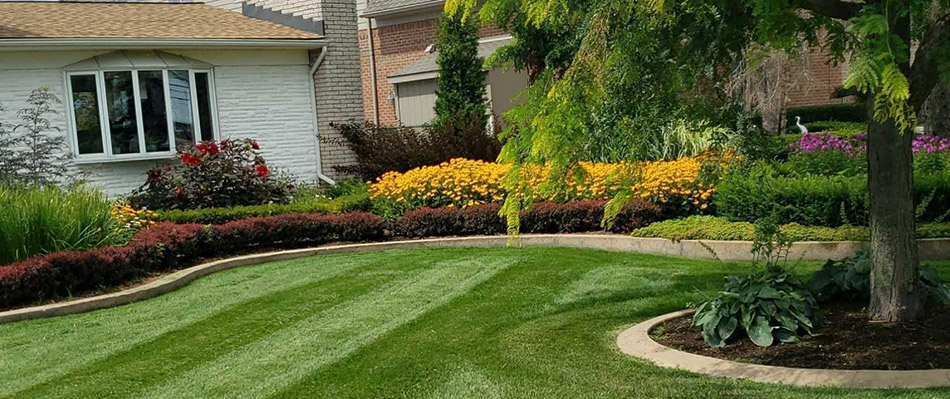 Take advantage of our wide range of landscaping services that are sure to keep your property healthy and thriving. Our landscaping services include:
---
Lawn Care Services
When caring for your lawn, it needs more than general maintenance such as mowing and trimming. Routine lawn care services like fertilization keep your lawn healthy and green. Our team of experts knows what your lawn needs and we apply treatments at just the right time for maximum impact. Some essential services your lawn should have annually include aeration and overseeding.
Part of managing lawn health means ridding your lawn of invasive plants that suck nutrients away from your landscape plants. The most common invasive plants on lawns are weeds. We provide both pre-emergent and post-emergent weed control treatments.
Lawns are also vulnerable to pests, which is why we offer grub control, lawn insect control, and perimeter pest control. We also offer flea & tick control and mosquito control to keep these unwanted pests from becoming established and causing future problems within your lawn.
---
Year-Round Lawn Maintenance
By signing up for a regular lawn maintenance plan, your lawn will be taken care of the entire growing season. Our maintenance services include the following:
---
HOA & Commercial Services
here
If you own commercial property, you shouldn't have to worry about the lawn. We offer commercial lawn and landscape service packages that involve regular mowing, weeding, and more.
During the winter season, we also offer commercial snow removal and deicing for walkways, parking lots, and driveways. We also provide HOA grounds maintenance to make sure common areas are always clean and appealing.
---
Don't neglect your property. Schedule lawn and landscaping service today.
Our team of lawn care experts serves properties in St. Clair Shores, MI, and the surrounding areas. We provide high-quality services for residential, commercial, and HOA properties. Give us a call at (586) 200-0855 to schedule your lawn care or landscape service today!