Reliable snow removal and deicing services offered in Chesterfield, Macomb, and other cities and townships in Michigan.
We deploy to your property based on the type of contract you set up with our company.
Once wintry weather starts rolling in, it brings with it safety risks and potential for injuries. That is why it is vital to ensure that you have a reliable snow removal and deicing provider coming out each time it snows to clear off your driveway, parking lot, walkways, entrances, and more.
At Big Lakes Lawncare, we offer various types of contracts and will deploy to your property based on your preferences. Our company serves Chesterfield, Macomb, Shelby, and nearby townships and cities in Michigan.
---
The Health Risks Associated with Removing Snow on Your Own
The process of snow removal can be very strenuous, which means it puts a strain on anyone who may not be physically active. Snow removal can actually end up leading to cardiac issues that can land you in the emergency room, according to Harvard Medical School. We recommend that you hire a professional to handle all of your snow removal needs.
If you have pre-existing medical conditions or are over the age of 55, consider having someone else remove snow for you.
---
We Keep Your Commercial Property Safe for Employees & Customers
After the snow falls or ice coats the surfaces of your commercial property, there is a high chance of injury. Employees can fall on ice and injure themselves, which affects your business productivity. If a customer falls, then you could risk them getting angry with you for not providing a safe area during the winter.
We provide efficient and thorough snow removal and deicing services for your sidewalks, entryways, parking lots, driveways, and other concrete surfaces on your commercial property so that it is safe for anyone coming to visit.
---
We Use Proper Equipment for Removing Snow at Residential Properties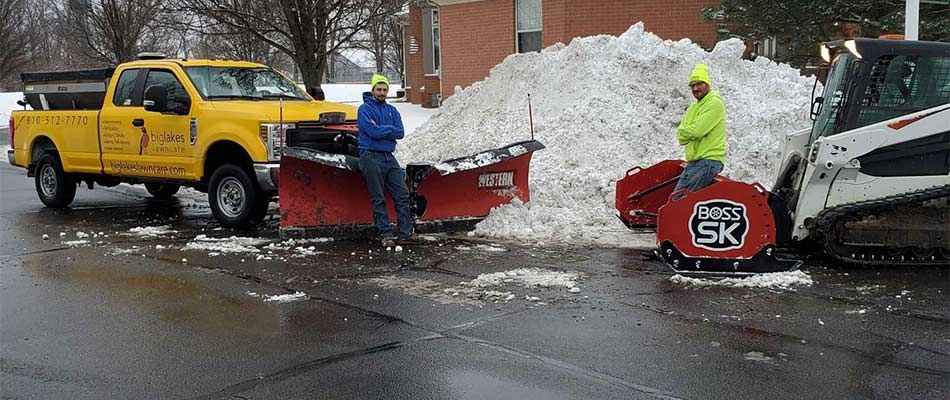 For residential properties, we also offer snow removal services. Our crews will use the proper equipment to clear off your walkways and sidewalks so you can safely walk around your property without slipping. We will always use the correct equipment to avoid scraping or scratching the underlying concrete or brick surface.
---
Deicing Stops Ice from Forming Again After Snow Removal
After we have plowed away the snow, we will apply a treatment of deicer. Using deicing services ensures that ice will not form again once we have removed the snow. Our crews use salt and liquid deicing treatments, as well as calcium chloride, to prevent icy surfaces on your property.
---
Looking for reliable and efficient snow removal services for your home or business? Call to be added to our schedule.
Do not wait until winter weather starts to call us about snow removal services—our schedule will fill up quickly. We offer efficient, reliable deicing and snow removal for homes and businesses throughout Macomb, Shelby, Chesterfield, and nearby cities in Michigan. To schedule our residential snow removal service, you must be enrolled in either our fertilization and weed control program, our mosquito control program, or our perimeter pest control program. Call us at (586) 200-0855 for an estimate!