Top-rated overseeding services offered in Chesterfield, Macomb, and other Michigan townships and cities.
Overseeding is usually done in the fall, as other times of the year won't provide optimal results.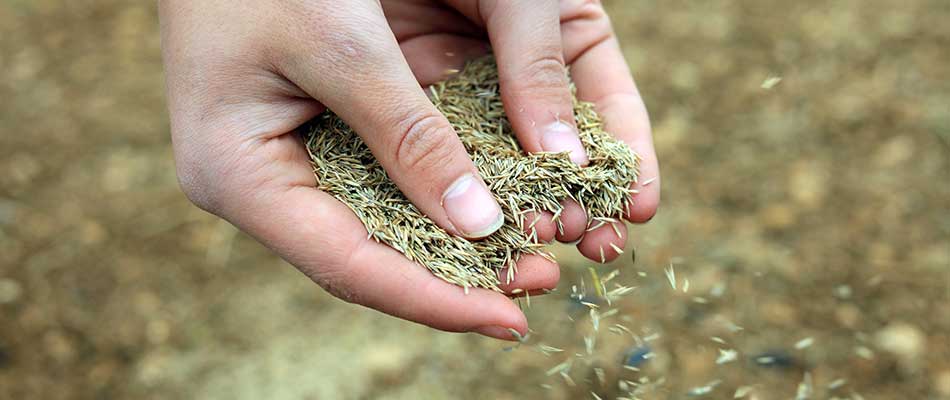 A key component of any lawn care program involves providing the grass with new growth to supplement the existing grass and root system. This is done via overseeding, which is best done in the fall for optimal results. At other times of the year, the new grass will not grow as well.
Our top-rated overseeding services are provided to residential, commercial, and HOA properties in Macomb, Shelby, Chesterfield, and the nearby cities and townships in Michigan.
---
Overseeding brings new life to your lawn after a summer of heavy use.
When your lawn gets heavy traffic and a lot of use during the spring and summer, it can be worn down during that time. The underlying soil is also compacted, which blocks the grass and roots from getting as many nutrients as possible.
During aeration and overseeding, we correct the compacted soil problem and put down new seeds so that your lawn gets new life and is restored to its former glory. Other benefits of overseeding your lawn in the fall include:
New grass can replace bare patches of soil.
It makes the lawn stronger and increases its ability to fight off lawn diseases and insects.
The lawn is greener and brighter when the new growth begins.
The grass will also be able to hold off weed invasions more efficiently.
The type of seed we use at your property depends on what kind of grass you have in your existing lawn.
For maximum germination rates, it is recommended to always pair overseeding with core aeration services.
---
What are the recommended ways to care for a newly overseeded lawn?
About a month after overseeding your lawn, it is recommended to apply a fertilizer treatment to supply the new grass with much-needed nutrients so the blades can continue to develop and grow a strong root system. Another best practice is to water your grass on a daily basis for about 15-20 minutes until you see new grass begin to grow. This will also encourage deeper root growth. Once the grass starts growing, you can water less frequently.
Our lawn care company can provide you with more specific recommendations based on your property and the type of grass that you have. We use our expertise to plan out a watering schedule and other lawn care treatments for each home, business, or HOA property we work with in Chesterfield, MI, and the nearby areas.
---
If your lawn needs overseeding services, then call us today for an estimate!
At Big Lakes Lawncare, we provide thorough and reliable overseeding services for commercial, residential, and HOA properties in Macomb, Shelby, Chesterfield, and the surrounding communities in Michigan. If you think your lawn might benefit from overseeding, then give us a call today at (586) 200-0855 to get an estimate!